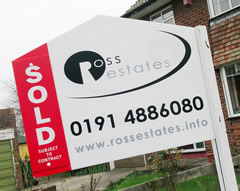 Your First Move - Requesting A Valuation
If you are considering selling your home, the first action is to obtain an accurate market valuation. Our experienced residential sales team can provide you with a realistic appraisal that will take into account all of the factors that impact the marketing price and the sales strategy. These include current market conditions, recent sold prices, location and the condition of the property. Once we've provided you with an accurate valuation it will help you to make the right decision for your next move.
Our property valuation service is free of charge and carries no obligation. All you need to do is go to the valuation request page and complete our registration form or if you have registered already, simply use the contact us page or request a call back. We will then telephone you to arrange a visit at a time that is most convenient for you. Weekend and evening valuations are also available.
Why Choose Peter Ross Estates?
Below we list just some of the reasons why you should entrust your property to Peter Ross Estates, but don't simply take our word for it, call for some friendly advice or see our success gallery for proof that we do sell houses!
Extremely competitive fees
No Sale / No Fee Guarantee
No 'tie-in' Period!
All inclusive web & newspaper advertising
Free accompanied viewings should it be required
Free independent financial advice
Friendly pro-active sales team
On top of all this, one of the main reasons our existing clients have chosen to use Peter Ross Estates besides our professional yet personal approach to business is the fact that we can offer a tailor-made package to include legal fees. Our legal team is based in-house so we are able to track the progress of any sale at anytime throughout proceedings. We have found from previous successes that this unique feature of our business enables us to offer a far better service than our competitors and in turn many of new vendors have approached us due to recommendation.
How Do We Do It?
From the time you instruct us at the initial valuation stage, all the way through to the sale and final completion, we will be in partnership with you, promising to act only in your very best interest at all times. Not only will we be your eyes and ears but also your advisor. We will set the correct marketing price by agreement with you, create a meaningful marketing strategy, and when we find the right buyer, we will negotiate the very best price and terms for you, seeing things through to a satisfactory conclusion. We are not foolish enough to suggest that all will be plain sailing and it is common knowledge that moving house can be stressful at the best of times. However, we will be there to deal with any issues that arise from start to finish, doing our utmost to take the weight off your shoulders and guide you towards the finish line.
Marketing and Exposure
We produce top quality property particulars with well-written descriptions and excellent photos that help greatly in attracting the right people to view your home. There is no doubt that the print media is a rapidly diminishing source of enquiries, however, we still advertise in local publications regularly. Many buyers are introduced or referred to us by long standing associates, both regionally and nationally, and these days a large number of enquiries come to us electronically through our large internet presence. Our 'For Sale' boards are also still a rich source of good enquiries from locals and passers-by.
Internet Advertising
Nowadays, creating maximum exposure on the internet is crucial to selling any property. The internet provides armchair access to vast quantities of information about the property market for potential buyers worldwide. If you choose Peter Ross Estates to sell your property, you can be assured that we will advertise your property for free on all the main property portals including:
www.rightmove.co.uk
www.findaproperty.com
www.zoopla.co.uk
www.primelocation.com
www.globrix.com
When the internet does its job and delivers 'out of area' interest to our towns and villages, our offices capture these people and our friendly staff begin talking to them and ultimately convert them to buyers. Our own website, www.peterRoss.info is quickly accessed through the major search engines such as Yahoo and Google. However, we never forget that in the ultimately, the internet is only another shop window and a supplier of information. It is our experienced staff who provide the support, guidance and detailed knowledge of our customer's properties to these potential buyers.
We Earn Our Fees
We earn our fee by making sure we take negotiations the full distance. Whilst we cannot force a buyer to pay more than they have to spend, we are usually able to create the environment for them to recognise that they really want to buy a particular property and help them recognise where the actual purchase price for that property lies. Our reputation heralds the fact that we are supportive, creative, knowledgeable and expert in all that we do. We will anticipate, assess and guide you through the process, helping you make confident decisions when they fall due.
The Nature of Our Business
Ultimately our line of business is all about people. Building rapport, good communication skills, understanding and a deep-rooted care and interest to succeed for our customers, are the factors that really make us stand out from the crowd.
Beneath a veneer of competence, some agents are too impersonal, too casual or just too inexperienced to be effective. The choice of agent will make the difference between a bad result, an acceptable result or a good, successful result. Peter Ross Estates won't let you down, we are experts in property and promise to work closely with you to attain your goal in achieving the best possible price for your property in the shortest possible time. If you need to sell, just talk to us.